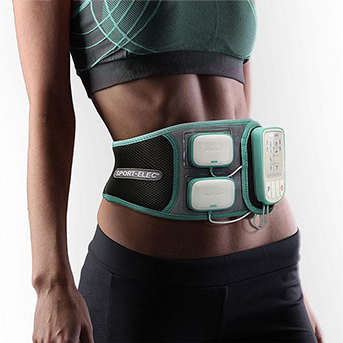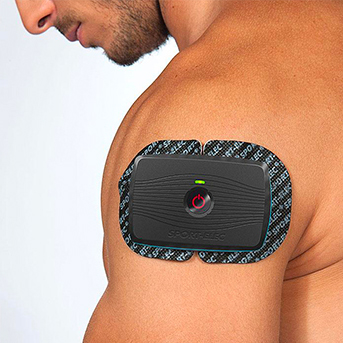 Sport elec muscle electrical stimulator can be used on all the muscles of the body, except for the cardiac area and the face. Thanks to Sport elec's high-performance adhesive electrode system or to combi accessories designed by sportelec to facilitate muscle work through electric stim, they allow precise and complete work that adapts to all types of use, as you can see in our guide to electrode placement.
Whether it's for arm and shoulder muscle electrical stimulation, buttock electric stim or abdominal and pectoral electrical stimulation, Sportelec has the right solution for your needs.
In order to simplify the use sportelec innovates with modules that replace the independent wires of connection to the traditional adhesive electrodes, so at each output of the red multisport pro devices you will find this module that you can directly attach to a double electrode. This electrode is double because it is divided into two parts connected by the carbon fibre textile. This means that you only have to place one double electrode on your body, which saves you time.
If you want to cover larger areas, Sportelec has created the exported electrodes, which can also be attached under the module and allow the stimulated area to be extended. The Free Action device, which is cable-free and works with a MiFi system and 4 motors, uses double and exported electrodes with the added comfort of a wireless product, sold with its very convenient control panel.
The muscle electrical stimulation programmes :
They are used to perform different actions on your muscles, for different purposes, ranging from gaining muscle mass, to increasing explosive strength, or even relaxing after an intense workout.
The sportelec programmes are specially designed for each of these objectives. Sport Elec also wanted to innovate in these areas by creating various programmes which combine several levels of frequency in the same programme, a bit like a cocktail or a recipe which combines several effects in the same dish. So, whatever the programme, your muscle will be treated better than with any other electrical stimulator.
At first sight, it is not easy to understand all the different programmes invented by Sportelec's experts in over thirty years of existence, but with use you will understand and appreciate all these nuances, as do our millions of users.
If you are an athlete, in the process of resuming physical activity, or if you simply want to relieve pain, you will not necessarily use the same programme.
Programmes to improve athletic performance :   
The more specific programmes such as muscular endurance, explosive strength or muscular resistance are suitable for sportsmen and women who are looking for a particular result. With these programmes you will improve the reaction time of the muscle in action, the explosiveness so important for 100m sprinters or sports such as handball, football, boxing - all sports that require violent effort with maximum instantaneous reactivity. With the muscular endurance or muscular resistance programmes you will improve the strength and endurance of your muscles during exercise.
Muscle maintenance programmes :
The muscle volume recovery, muscle volume building or muscle maintenance programmes are suitable for people who want to maintain or gain muscle volume for a complete result.
Recovery or active recovery programmes :
They allow the most athletic people to recover more quickly after an intense workout or electric stim session. The gain in recovery after physical exertion thanks to the specific programmes of the sport elec electrical stimulators can reach 30 to 40%.
The other health programmes will be used in various situations :
TENS will be used to reduce pain. TENS programmes are known to be effective and have the advantage of not being addictive or having any side effects.
For heavy legs, TENS will reduce the unpleasant tingling sensation that can prevent sleep by activating the blood vessels.
The muscle relaxant and massage will help you relax and detoxify your muscles.