back to listing
Maxibelt 2M offer with Free Action 2 motors
Wireless Free Action even more effective with the Maxibelt 2
Recommended price
£328.96
TTC

Free delivery
From £85,34 of purchase

3 year warranty
FREE ACTION 2M PACK AND MAXIBELT
The pack includes a Free Action electrostimulator, 2 Free Action motors connected by Bluetooth to the box, a Maxibelt 2 and the electrodes needed to start your first session.
The Free Action's intuitive touch interface allows you to select the programme and muscle area from a combination of 94 sport and health programmes and 11 muscle areas.
The two motors can be used independently and are colour coded, thanks to the Sport-Elec search. You select the muscle area(s) of your choice and your electrostimulation device will be able to adapt the current variations and intensity of its programme. This guarantees successful electrostimulation with visible results.
With the Maxibelt, the Free Action will allow you to combine your electrostimulation session with your physical exercises such as bodybuilding for example, for greater efficiency.
The Maxibelt 2 helps you to slim down your figure and get a flat stomach. By intensively stimulating the abdominal muscles, your abdominal muscles are finally toned and firmed. You will notice an improvement in your posture.
When used alone, the 2 motors also have an effect on the waistline and help to eliminate fat and cellulite on the stomach, buttocks, arms and thighs.
This Maxibelt Free Action 2M pack is therefore a fitness and slimming ally. You can use them for warm-up sessions, during your sports training sessions and also to recover after exercise thanks to the Sport programmes. With the Health programmes, you can follow up after exercise with massage programmes to relieve cramps or muscle tension and to improve blood circulation to relieve heavy legs in motor mode only.
The Free Action is a powerful, quality electro-stimulator, compatible with 2 additional motors and with the COMBI accessories available in the Sport-Elec shop. It will therefore evolve with you, as your needs change.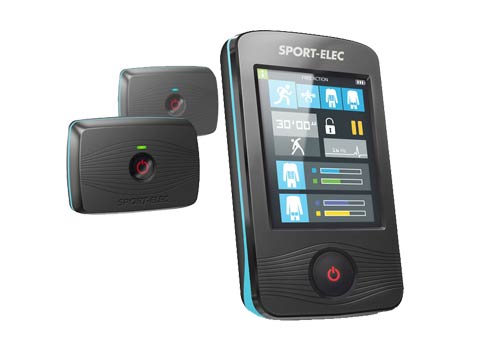 Data sheet
Type of current

Bisphase

Power

Intensité : 90 mA max

Technology

wireless

Category of programs

Cutaneous preparation, recovery of muscle volume, strengthening of muscle volume, muscle resistance, muscular endurance, muscle maintenance, explosive force, recovery

Number of program variations

255

Number of channels

4 adjustable Independents

Screen

LCD color touch

Source energy

LiPo rechargeable battery 3.7V - 1020mAh (remote control) 3.7V - 420mAh (motors)

Automatic stop

Yes, after ~ 4 min 30 sec of inactivity

Safety at ignition

100%

Detection absence of contact

yes