back to listing
4 rectangular wire electrodes WX
WXELEC1 Bag of 4 rectangular electrodes 89x50 mm

Free delivery
From £85,34 of purchase

3 year warranty
4 WX rectangular electrodes compatible with Sport-Elec electro-stimulators
4 WX rectangular adhesive electrodes compatible with electrostimulation devices equipped with standard 2 mm diameter connecting wires.
These electrodes are not compatible with devices with modules.
The adhesive electrodes are made of conductive materials and hydrophilic substances that allow the current to be diffused.
Each adhesive electrode consists of a carbon film and a hypoallergenic conductive gel.
Regular renewal of the adhesive electrodes ensures perfect conductivity and 100% effective stimulation.
Advice:
    Before use, wash and dry your skin. Remove the cover of the transparent plastic electrode. Apply it to the skin, start your device.
    After use, moisten them slightly with a few drops of water and carefully replace the plastic cover. Store the electrodes in a cool, dry place.
    The life of the electrodes varies according to the maintenance and frequency of use (approximately 40 sessions of 30 minutes). These precautions are essential to prolong the life of the electrodes.
Read carefully the precautions and contraindications in the instructions for use of your electrostimulation device.
Do not apply :
    on a wound 
    on the heart area 
    on the face 
    on the neck
    if you are pregnant 
    if you have an implant
This product does not require a contact cream.


4 rectangular electrodes with connectors adapted to Sport-Elec devices
You might also like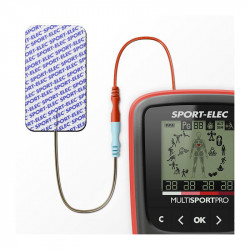 £143.29

TTC
-£25.44
£117.85

TTC