EMS muscle stimulators of the pectoral muscles, which can be useful in most sports, such as swimming, parallel bars, combat sports and lifting weights, is also very much in demand for aesthetic purposes.
For sportsmen and women, it allows to strengthen muscles, to avoid injuries linked to repeated movements. But also to build up muscles to gain strength or tone.
For aesthetics, men have long favoured them to increase their muscular volume, but they have also become very popular with women. As a matter of fact, building up the pectoral muscles without doing any cardio helps to improve the firmness of the breasts, without reducing their size, which is why e-stim of the pectoral muscles can be very relevant for women!
Pectoral Accessories
As the pectoral muscles are relatively difficult to reach, you need an accessory that covers the entire torso in order to be able to attach it properly, which is why we have developed our combi vest. With its support, you will be able to continue your activities during your session, or do exercises on other parts of the body at the same time. With module devices such as multisport pro or free action you can place the electrodes directly on the pectoral muscles avoiding the heart area. We have a complete range of electrical pectoral muscles stimulation devices, all you have to do is select the device that will perfectly match your use.
You can attach the electrodes to your electrostimulation devices as you wish. Once the positioning is done, there is no need to touch the electrodes, you only have to put on your combi vest to start your muscle electrical stimulation session. The time-saving and practical aspect makes it very popular with those who use it regularly.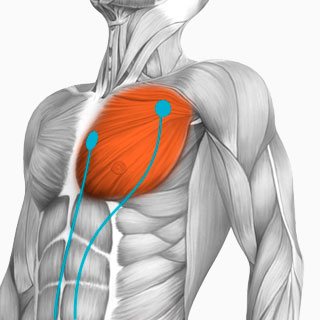 Placement of electrodes on the pectoral muscles:
It is important to respect the placement of the electrodes in order to stimulate the targeted muscle. The electrodes should also be placed on the upper part of the pectoral muscles, in order to avoid the heart area.
To help you in the process, you will find below our diagrams corresponding to the placement of the electrodes on the pectoral muscles.
In order to obtain a harmonious morphology, please also read the explanations of the Sport-Elec experts concerning the placement of the electrodes on the other parts of the body.