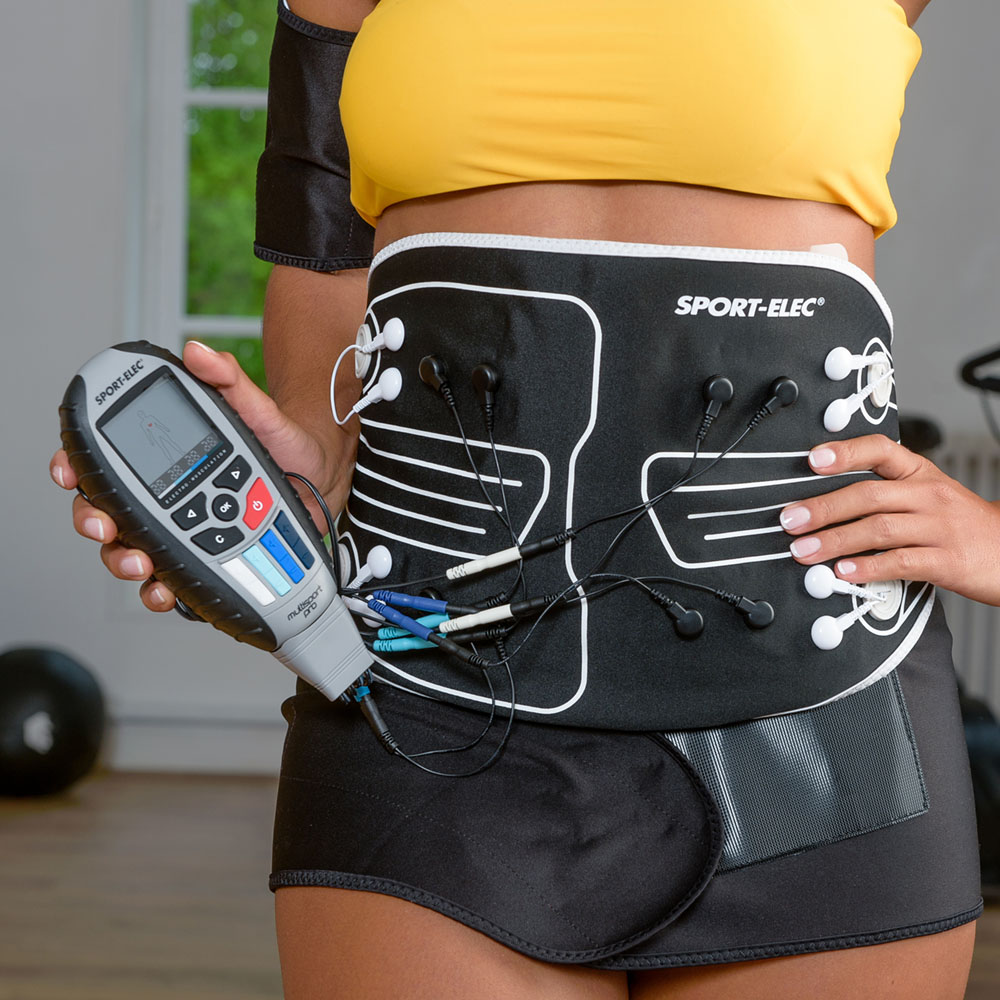 What you need to know.
Beyond the classic contraindications which appear in the instructions for use of the Sport-elec or Compex and bluetens devices and which concern pacemaker wearers, people with heart problems, pregnant women, but also recent surgical operations, open wounds, etc., it is necessary to determine when it might be inadvisable to do electrostimulation with your Sport-elec.
The muscles are like motors which feed off the energy contained in our cells and stored following the chemical transformation of the food we consume, so in order for a muscle to be healthy the body which contains it must be in a perfect state of dietary balance and oxygenation and not suffer from any deficiencies. The first condition for doing electro-stimulation with Sport-elec is to check that our body is in a state of good general health. Electrostimulation is therefore recommended for healthy muscles.
It is easy to understand that if you force an engine in a bad state to go up to very high speeds you will break it, for the muscles it is the same thing if you force a muscle to contract when it is suffering from a deficiency you will tear it. Sport-elec electrostimulation has the capacity to replace the energy provided by the body by sending electrical impulses to the muscles similar to those used by the body to create mechanical movement in a leg, arm, etc... each muscle has a unique function on our skeleton to trigger the appropriate movements for our needs of activity and survival
All the muscles of all animals are designed in exactly this way and move in exactly the same way as our own, under the electrical impulse the muscles contract, that is to say, the electrical impulse generates a chemical reaction from calcium ions to create the shortening of the muscle fibres and generate the specific movement for which that muscle is made. Any anomaly in our organism can weaken the muscles and electrostimulation can be negative if used in high doses. To do this, it is enough to think that if you do not use an electro-stimulator, but decide to practice a sports activity all of a sudden, whatever your ambitions are, you could be contradicted by your physical state, or even let down by your muscles and be forced to give up. It is logical that between the desire and the realisation there is a phase of preparation and training, it is the same with electrostimulation, you must use it sparingly and in a way which is adequate to your general physical condition. Once this has been established, during each session you will do a warm-up phase which is provided for in all the Sport-elec equipment.
Sport-elec has designed its training programmes by programming a warm-up phase at the beginning of each programme launch, which also corresponds to the massage programmes, once the programme has been carried out there will also be a recovery phase to help the muscle to reconstitute itself after the effort of the intense phase of the programme.nevertheless you will have the freedom to increase the power and it is there that you will have to be reasonable and not force unnecessarily on the muscle, so as not to strain it
To sum up, to do electrostimulation you need to proceed progressively, otherwise beware of soreness. Soreness signals muscular micro-lesions which generally recover within 3 days. If you feel these pains after a sport-elec session you will know that you have abused your sportelec either by repeating your sessions too often or by forcing the power of your device to levels that are too high, your device has the advantage of exceeding 100 milliamperes but also the disadvantage if you are not reasonable.you can use the following day an active recovery programme that reconstitutes the muscle fibres without soliciting them to the extent of the Tetanus so you will erase the pains much more quickly