Muscle electrostimulation of the back by Sportelec is essential for all sports, as a muscular back helps to avoid many injuries due to repeated shocks, such as during rugby, judo or horse riding. It is less necessary for aesthetic purposes but should not be neglected either. The back is also the part of the body that receives all the pain caused by sport or stress and bad movements. It is often the part that causes us the most pain.
For athletes, the electric stim of the back allows to strengthen the muscle, to gain in endurance. But also to strengthen and relax it to gain strength and efficiency.
For aesthetics, electrical stimulation of the back is not the most common, but it should not be neglected. It is very important for our health, with our increasingly sedentary lifestyle, back problems are often considered to be the disease of the century and for good reason. The simple fact of regularly maintaining the muscles of the back makes it possible to considerably reduce the risks of problems, as well as to limit the pains. That is why the experts at Sport Elec have developed specialised electrical stimulation for back pain and electrostimulation devices for use in cases of herniated discs. Almost all muscular problems can be relieved with electrical stimulation.
Back accessory
In order to facilitate the use of electric muscle stimulators on the back, we have developed a comprehensive accessory that allows good muscle development of the entire back.
The compex compatible elec sport combi vest  offers you optimal support, so you can continue your activities during your session, or exercise other parts of the body at the same time.
You can attach the electrodes to it as you wish. Once the positioning is done, there is no need to touch the electrodes, you only need to put on your armband to start your electrostimulation session. This saves time and is very convenient. You can also, thanks to the back free action and multisport pro sport elec electrical stimulation modules, place the electrodes directly on the areas you wish to stimulate.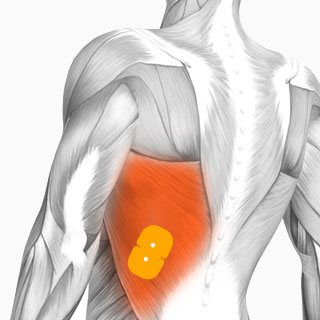 Placement of electrodes on the back
The large surface area of the back may lead one to believe that the placement of the electrodes is very simple, but it is important to respect the placement of the electrodes in order to stimulate the targeted muscle.
In order to help you in the process, you will find below our diagrams corresponding to the placement of the electrodes on the back.
To find out the specificities of all the muscles in the body, please read our guide to electrode placement.
 Also, to find out about all the possibilities of using electrical stimulation, please read our dedicated page.