Electrostimulation of the buttocks, used for sports such as rollerblading, ice skating or horse riding, is also very popular for aesthetic purposes.
For athletes, it helps to strengthen the muscles, to enable them to gain in endurance. But also to build up muscles to gain strength.
For aesthetics, the muscle electrical stimulation of the buttocks is increasingly in demand, it allows you to work them, while continuing your daily activities, taking care of your aesthetics is no longer a waste of time! It is to meet this need that the experts at Sport Elec have developed several electric buttock training devices.
Buttocks accessories
To facilitate the use of the electric muscle stimulators on the buttocks, our buttock electric stim belts are as follows:
The compex compatible combi buttock belt will give you optimal support, so you can continue your activities during your session, or exercise other parts of the body at the same time.
You can attach the electrodes to it as you wish. Once the positioning is done, there is no need to touch the electrodes, you only have to put on your buttock belt to start your e-stim session. A time saving and practical solution that makes those who have adopted it very happy.
The electrostimulation shorts for the buttocks also offers excellent support and can be used without contact electrodes, using a contact cream instead of electrode gel.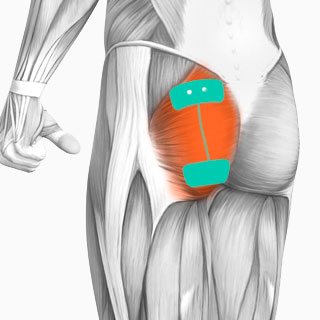 Placement of electrodes on the buttocks
It is important to respect the positioning of the electrodes in order to stimulate the targeted muscle.
In order to help you in the process, you will find below our diagrams corresponding to the placement of the electrodes on the buttocks.
In order to build up your body in a harmonious way, please read our guide to placing the electrodes on all the other parts of the body. And find all the information you need to use electrical stimulation here.