back to listing
OFFER Combi Maxibelt Multisport Pro
Combine power and precision with Multisport Pro and this set of accessories COMBI gluteal belt, armbands and abdominal belt Maxibelt. Concentrate your work on the arms, buttocks and abdominal belt. Also take advantage of its 4 channels to work 4 muscle areas at once. 
Recommended price
£327.27
TTC

Free delivery
From £85,34 of purchase

3 year warranty
Thanks to the Maxibelt COMBI pack, the Multisport Pro can be adapted to (very) regular or professional sports profiles for electrostimulation sessions that are always more effective. tion sessions that are always more effective.
The Multisport Pro is thus associated with 3 COMBI accessories: armbands (to work the arms and calves), a special gluteal belt and a Maxibelt 1 abdominal belt for more precise work.
The purpose of these accessories is to reinforce the action of the electrostimulation device while you are doing your warm-up, training or recovery session. The maxibelt will allow you to save time on the installation of the device each time you use it and to work your muscles on a larger surface area.
The Multisport Pro electro-stimulation device is the ideal training partner to improve your physical condition and performance by practising intensive electro-stimulation, i.e. combining electro-stimulation sessions with your sports sessions.
Work 4 muscle areas at the same time thanks to the 4 modules equipped with double or exported electrodes (for long muscles).
The Maxibelt is wide enough to work the whole abdominal strap.
Multisport Pro has a total of 94 programmes (8 sport programmes, 6 health programmes for 11 muscle areas) and a maximum power of 100mA, which can be adjusted in 100 power steps, so you can easily find the setting that suits you.
The 8 SPORT type programmes of the Multisport Pro will all have a specific action on your muscle. Depending on the signal sent, your muscle will not only increase in volume, but you can work on its explosive strength, its resistance to effort, its endurance and its recovery.
And in order to adapt our equipment to each individual's sport, with the Multisport Pro, everyone can find a suitable programme! You can even alternate the programmes used, in order to get the most out of the benefits offered.
You will even have the possibility of choosing programmes to start again slowly or to work more intensely on your acquired skills. All our electrostimulation programmes have been studied with a view to efficiency and the needs of sportsmen and women, whether they are amateurs or professionals.
During the sports programmes, the device will alternate between an active phase and a recovery phase, no dead time in our programmes.
The active phase uses high frequencies, your muscle will be intensely solicited in order to maximise the desired effect (strengthening, toning, endurance, volume)
The recovery phase uses lower frequencies, but continues to stimulate your muscle. Indeed, it is scientifically proven that continuing to stimulate the muscle weakly favours its recovery, rather than not stimulating it at all. Each of its recovery phases has therefore been studied in relation to the work phases in order to optimise it.
The 6 HEALTH programmes follow the same principle, but are not designed to increase volume. They will be useful for all types of people, whether you want to relax after exercise in order to reduce aches and pains, or to prolong it in a reduced way, you can even benefit from an anti-pain programme and one to relieve heavy legs. Thanks to the TENS currents, active recovery after exercise or muscle rest during your "off" days is made easier. Your muscle tensions are relieved, thanks to the release of endorphins from the massaging effect of the Health programmes. During these programmes it is not recommended to look for a strong contraction, increase the power in order to feel the desired effect.


Data sheet
Type of current

Bisphase

Power

100 mA max

Technology

wireline

Category of programs

Cutaneous preparation, recovery of muscle volume, strengthening of muscle volume, muscle resistance, muscular endurance, muscle maintenance, explosive force, recovery

Number of channels

4 adjustable Independents

Screen

LED display

Source energy

9VDC 250mAh rechargeable battery (motors)

Automatic stop

Yes, after ~ 4 min 30 sec of inactivity

Safety at ignition

100%

Detection absence of contact

yes
Specific References
ean13

0831609006526
EXAMPLES WITH ARMBANDS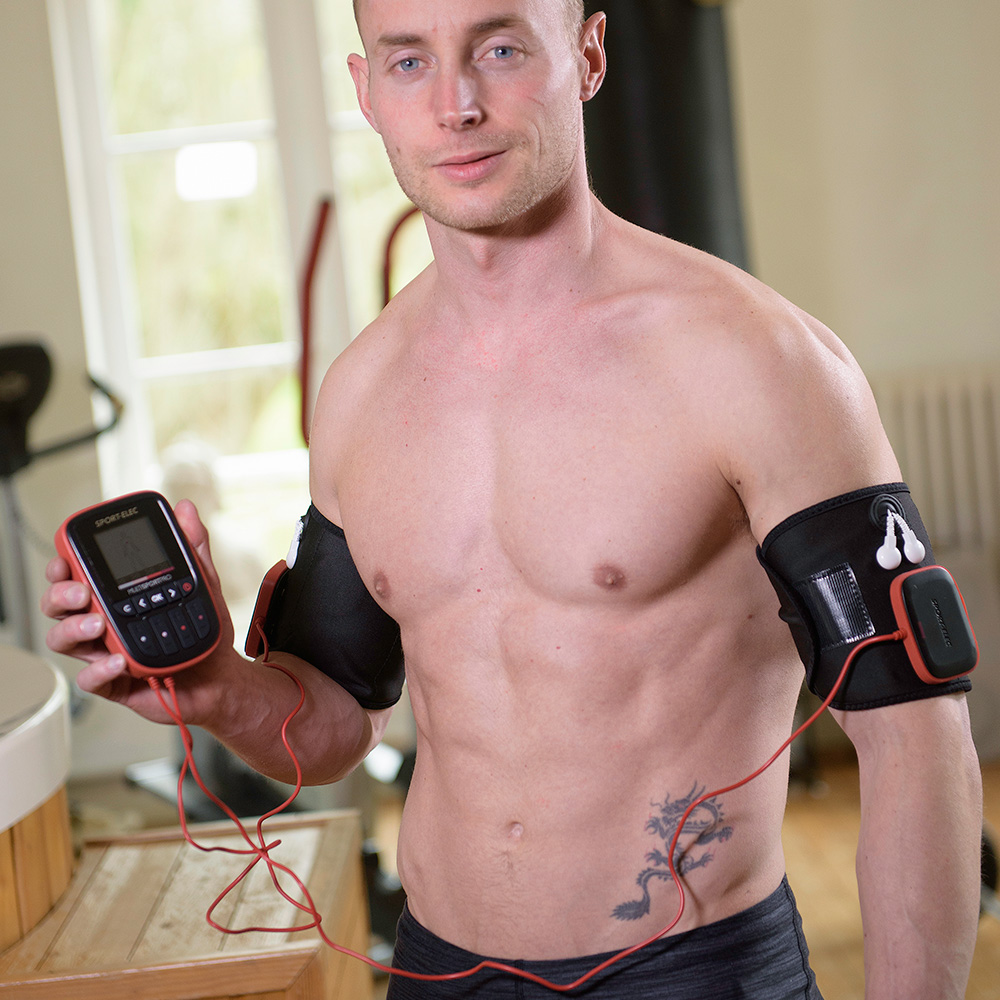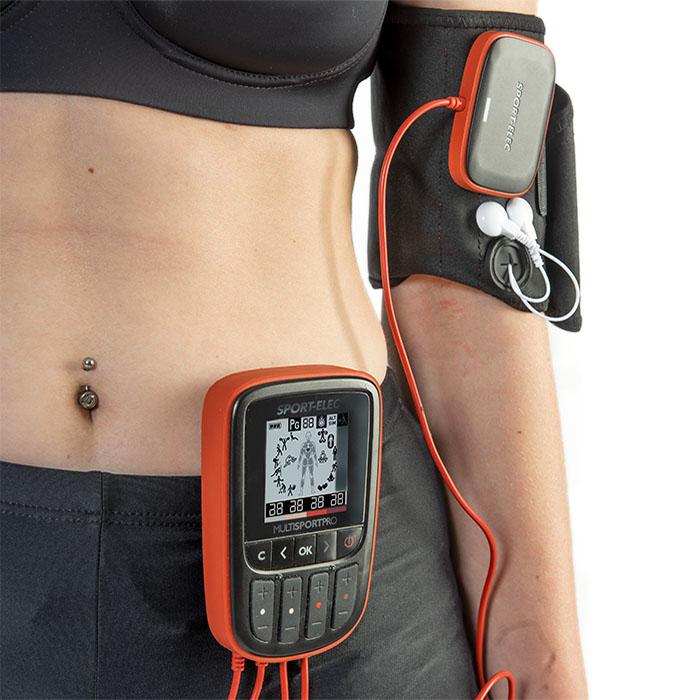 EXAMPLES WITH THE MAXIBELT 1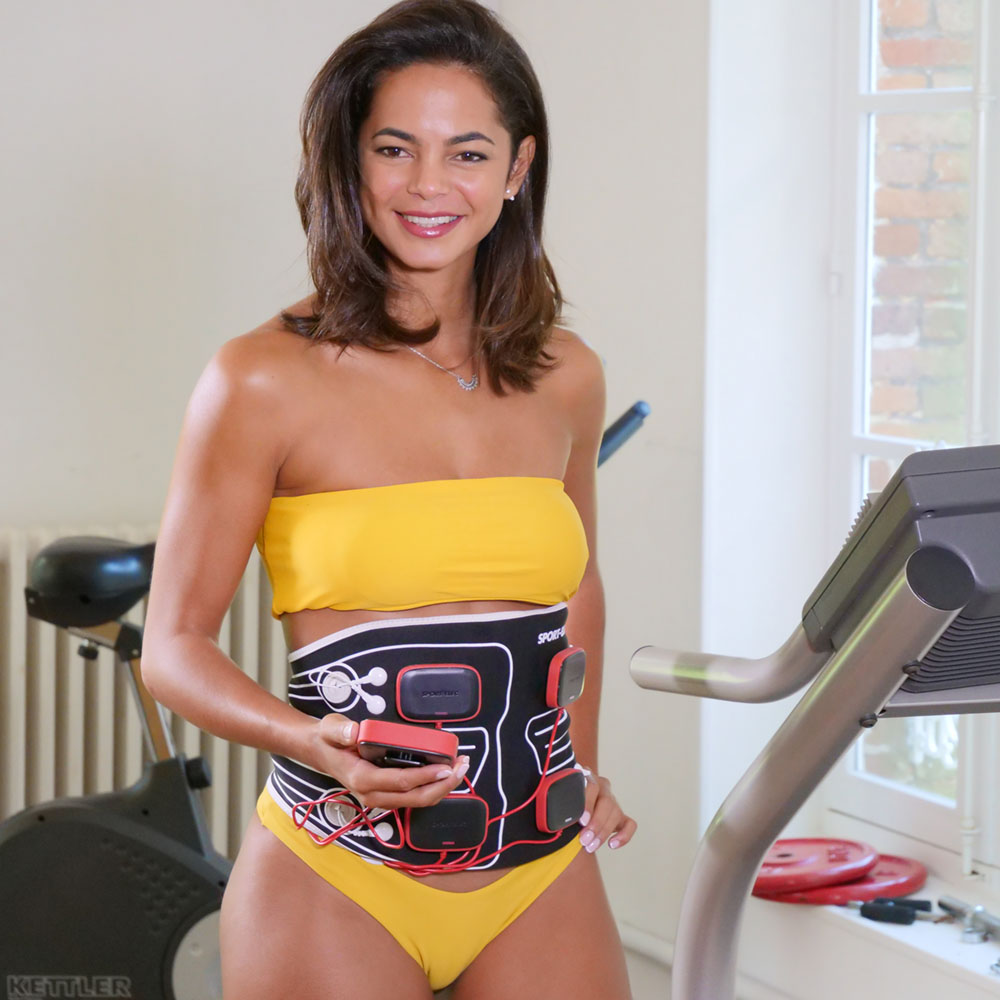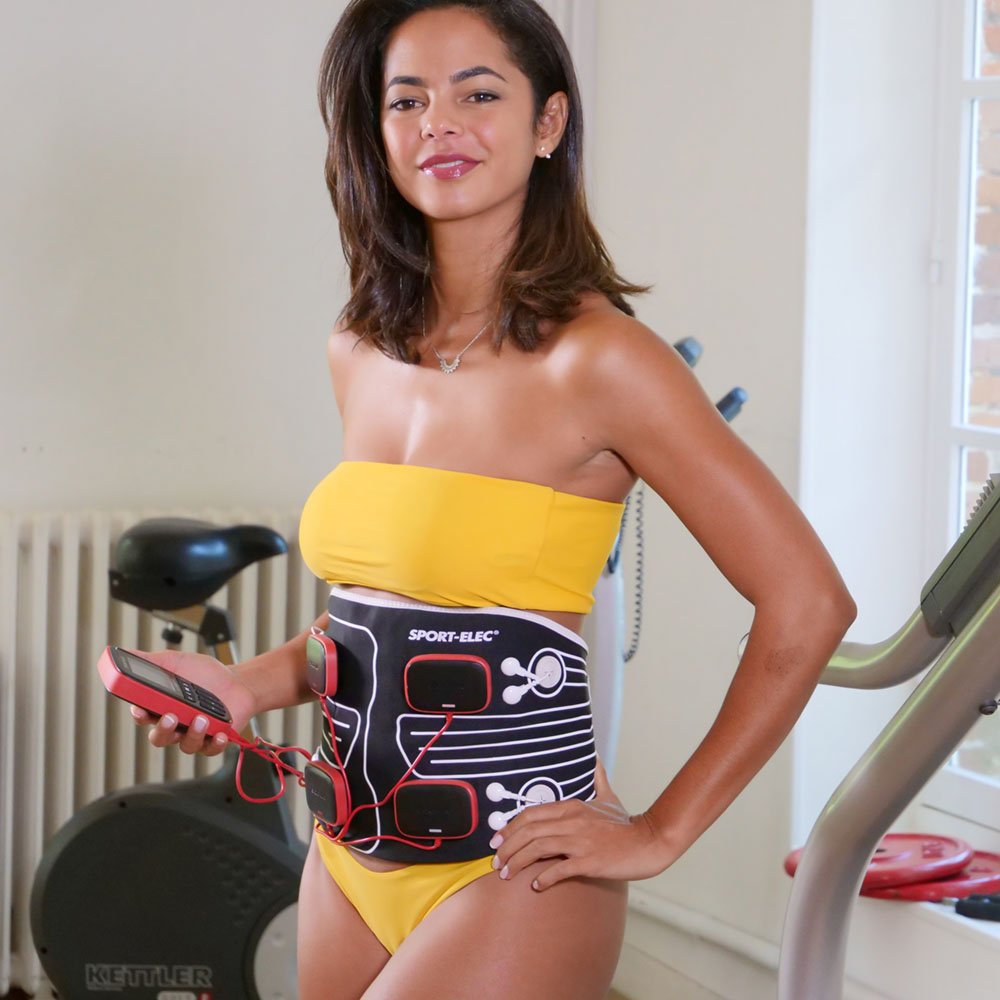 EXAMPLES WITH DOUBLE ELECTRODES